By Jessica Ward
So you're going on a college tour! Tours are one of the best ways to determine whether a college is the right fit for you, but the experience is what you make of it. Your tour guide has a list of things they have to cover, so here are ten questions you should have ready in case it's not on their list.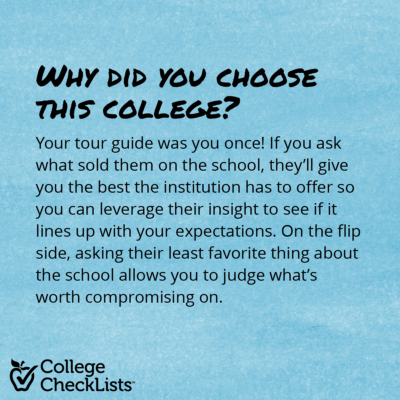 1. Why did you choose this college?
Your tour guide was you once! If you ask what sold them on the school, they'll give you the best the institution has to offer so you can leverage their insight to see if it lines up with your expectations. On the flip side, asking their least favorite thing about the school allows you to judge what's worth compromising on.
2. How big are the classes?
This might seem like a small detail, but it's actually really important. If you haven't thought about whether you'd like a small, mid-size, or large school, you better get started. Listen to your guide's explanation of the sizes, and ask why it works for them. There are pros and cons for every class size, so be sure to weigh every possible option!
3. Have you utilized the Career Development Offices? How are they?
Career development resources on campus can help undergraduates get internships and scholarships, as well as make networking connections. Since college sets the foundation for your career, it's a department you'll want to get to know. And here's an additional tip- this is a good time to ask about academic advisors too!
4. What are the most popular clubs on campus?
From student radio to club sports, colleges often have a wide variety of extracurriculars to choose from, and figuring out the most popular club lets you learn a little more about the student body. Don't worry if the most popular clubs aren't your thing though, this is more to gauge a general feeling for the environment. As long as they have something for you too, you'll find your people!
5. What do students do off campus?
College is like a little bubble, but it's good to branch out sometimes. Make sure the surrounding area has fun activities, events, and places you'd like to visit. Getting recommendations from students is the best way to dive into your potential new home, and maybe you can take a drive by those places after the tour!
6. Where do students like to study?
The library and dorms are a given, so you'll probably hear about cafes and generally quiet spots around campus that attract students who want a change of scenery while they work. It's always good to have a backup in case the library is full!
7. What is freshman orientation like?
This is a fun question to ask as every student can remember their freshman orientation. Students are made to feel welcome and excited about entering this phase of life, and you can learn a lot about the student body by seeing what they do to make sure you feel special on that day!
8. How accessible are the health resources?
Health (including mental health) resources are incredibly important to have access to on campus. Whether you need your flu shot, medication, or someone to talk to, you want these things to be readily available for you, and you want them to work efficiently. If you meet multiple students during your tour, it's a good idea to ask each one their opinion on these resources.
9. Is there a tutoring or writing center for students?
Most colleges have some kind of academic enrichment center to help students who need extra help with certain classes or projects. Ask about their hours, who you'd be working with, and how helpful it is as a whole. Even if you think you won't need it, it's always good to know help is available!
10. What is the graduation rate?
Fast forwarding to graduation seems a little ridiculous when you haven't even enrolled yet, but this is an important statistic. If it's lower than average, that means a lot of students either transfer to another school or drop out altogether. A high graduation rate is a large indicator that the students are generally happy there.
We know you have more questions, and these ten only scratch the surface of everything you should know about a college. Don't forget to ask these if they apply to you:
Ask about the dining hall if you have any dietary restrictions
Major-specific questions like how large your program is and general class requirements
If you're interested in studying abroad, ask about the specific programs the college offers
Ask about facilities around campus, like science labs, theatres, or computer labs as they apply to what you plan on doing.
Get details about volunteering and work study opportunities