By Jessica Ward
Can you believe summer is almost over? Some colleges have already started moving students on campus, which means it's officially Move-In Season. Don't panic if you don't have everything on your checklist yet— these eight last-minute shopping tips are here to save the day.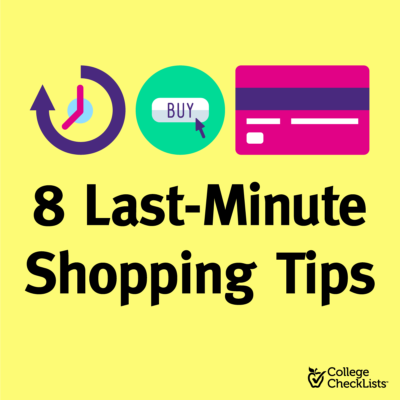 1. Sign up to every college shopping newsletter you can
Target, Home Goods, Bed Bath & Beyond, anything you can find! With move-in season now in full swing, this will make sure you're in the know of all the best deals and options available to you, as well as eliminate guesswork so you're not going from store-to-store wondering if they have what you need. You'll also get a first look at what's trending in college dorms so you can be ahead of the trendy curve on the very first day!
2. Find out what your school will let you rent
Many colleges partner with local stores to rent out large appliances that you'd rather not buy. Colleges that do this will email incoming students about this service over the summer, so you may have to dig through your inbox a bit to find it. Don't forget to check your student portal, too! Many colleges use that as their main communication with you leading up to move-in day. Once you know what's still available, make arrangements to pick up your appliance on move-in day ASAP!
3. Ask your roommate for updates
Over the summer, you should have been in contact with your roommate about shopping for the dorm. If communication has slowed down, ask them for an update so you can make changes to your list accordingly.
4. Determine what you need and what you want
If you're down to the wire, it's time to start prioritizing. You can buy things you want after you move in, but this is the time for grabbing the necessities. Re-visit your checklist and only focus your attention on what you need. If you're having trouble deciding what's a need and what's a want, ask yourself what you can go without for the first few weeks. If your experience will be significantly and negatively impacted by the item's absence, it's a need.
5. Set an entire day aside for shopping
We usually don't recommend buying all at once, but with only a few days left until move-in day, there are only so many options. Designate an entire day for shopping and plan out exactly where you're going and what you're going there for, i.e Target for bedding and an instant coffee maker, Bed Bath & Beyond for shower caddies and desk lamps, etc. It doesn't have to be stressful either— decide where to get lunch after everything's done so you have something to look forward to!
6. Take your checklist shopping with you
It's easy to think you know exactly what you're getting, but when you're caught in the madness of last minute shopping, it's even easier to get distracted and veered off course. Bringing a physical copy of your checklist with you will keep you on track for success!
7. Order online and pick up in store
Most national retailers have this option nowadays, and this is the perfect time to use it. There's no guarantee your online order will be delivered in time, so purchasing from the nearest location and picking up later is a great time saver and worry-reliever! You'll know exactly what you're getting, where you're getting it, and when you'll have it.
8. Relax a little bit!
Yes, arriving at college prepared is important, but also remember that this is supposed to be fun! Getting ready for the next chapter of your life is exciting! If you don't have some fun with it, you'll just end up stressing yourself out. Make shopping fun by going with friends or going to your favorite stores. It's also okay to treat yourself to something nice while you're shopping, too! You deserve it!