By Jessica Ward
We get it, you love your college friends and want to get them gifts before you all depart for winter break, but there's one thing stopping you: your wallet. It's no secret that college students live on strict, tight budgets. The answer? A secret gift swap with all your friends– that way everyone is included, and no one has to break the bank. Here are some thoughtful, budget-friendly gift ideas for whomever's name you draw.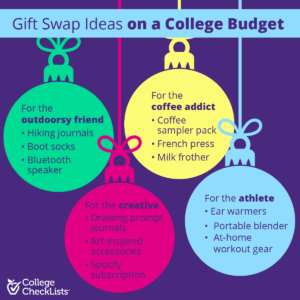 For the outdoorsy friend:
Hiking journals
Most major book retailers sell hiking journals for hikers to decompress and reflect on their time in nature. It's a great exercise for your outdoorsy friend who is trying to be more mindful in the upcoming year, and the best part is, they're usually under $20.
Boot socks
Pretty self-explanatory, but your friends are always going to need that extra warmth and protection whether they're venturing into the forest or taking a ski trip over winter break.
Bluetooth speaker
What camping trip is complete without a killer playlist? Contrary to popular belief, bluetooth speakers don't have to be expensive– retailers like Target and Walmart have speakers for $10 that will clip right on to your friend's backpack!
For the coffee addict:
Coffee sample packs
Independent and tried-and-true coffee chains alike sell sample packs during the holiday season specifically for those who never seem to get their fill. Whether they like to grind their own beans or love the convenience of instant coffee, there are fun assortments no matter their preference.
French press
Now the coffee lover in your life can learn to enjoy coffee in a whole new way over break! Don't be intimidated by the name– while esteemed coffee aficionados love their French pressed coffee, beginner sets are well within the $12-$25 range.
Milk frother
Your latte-loving friend no longer has to spend $10 on a specialty coffee every time they step outside. Handheld milk frothers are affordable and easy to use, and are sure to get plenty of use! They might even make you a drink if you ask nicely 😉
For the creative:
Drawing prompt journals
Every artist will admit it– sometimes it's hard to motivate yourself to practice. These journals give little sketch prompts to help get those creative juices flowing!
Art-inspired accessories
No matter what their artistic medium is, there's an accessory for it. From Van Gogh tote bags to iron-on vinyl record jacket patches, there is something for your artist on your budget!
Spotify subscription
Did you know Spotify sells gift cards so you can give a premium subscription for a few months? It's true! The artist in your life will love having access to any music or podcast while they work!
For the athlete:
Ear warmers
Going for a jog in the winter is not ideal, but the right gear can make it better. Check your local sporting goods store for headbands that are designed to withstand the cold and also not overheat while breaking a sweat. You'll be surprised how affordable they can be!
Portable blender
Portable, individual-sized blenders make it easier than ever to make those homemade protein shakes, and you can find reputable brands in the $15-$20 range. Win-win!
At-home workout gear
Is your friend finding it hard to get up to attend their morning yoga classes? What about trekking through the cold to get to the gym? Yoga mats, ankle weights, and so much more can be found online and in-store for less than you think, and your fitness pal will thank you!
No matter what you get your friends this holiday season, remember that it's truly the thought that counts! Have a relaxing winter break!