By Jessica Ward
You've heard dorm rooms are small. It's a stereotype that typically holds true, but "small" doesn't have to mean "cramped". Keep clutter at bay with some of these handy and affordable dorm room must-haves!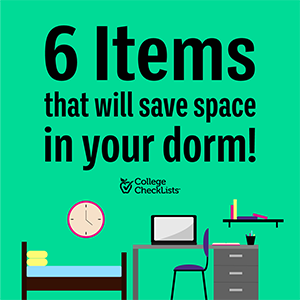 1. Collapsible laundry basket
Your washing machine is going to be down the hall, possibly in an entirely different building, and laundry baskets take up an unnecessary amount of space. The solution? A collapsible laundry basket that gives you an essential without adding to the clutter. Keep it in a closet or under your bed, this will be a staple you'll use long after graduating!
2. Multi-garment hanger
Dorm closets are notoriously small. Hangers that allow you to hang multiple garments on one will increase your closet space, and will prove especially useful if you need to make room for a bulky winter coat!
3. Bedside caddy
This handy folder tucks under your mattress and hangs over the side of your bed, perfect for when you're binging Netflix late at night and need a place to safely store your laptop while you sleep.
4. Adjustable drying rack
Have some sensitive garments you can't throw in the dryer? You're going to need a drying rack. This one folds flat for easy storage anywhere you can squeeze it in. You'll save a dollar on a drying load too, so win-win!
5. Storage ottoman
Extra seating? Check. A place to put your feet up? Check. Storage? Check. A storage ottoman has it all and it won't look as clunky as those plastic storage towers 😉
6. Under-bed storage bags
This is the best solution when you have things you don't need immediately. Sweaters, jackets, and other winter essentials can be kept here during the warmer months, and you can swap them out for summer when the weather gets colder!