By Jessica Ward
The summer leading up to your first move-in day is full of excitement, goodbyes, and… shopping! And while shopping for college is fun, we recommend not buying all at once and spacing it out throughout the summer to prevent last minute stress-buying, overpacking, or forgetting an essential. Here's our advice and a basic outline on when to buy for college: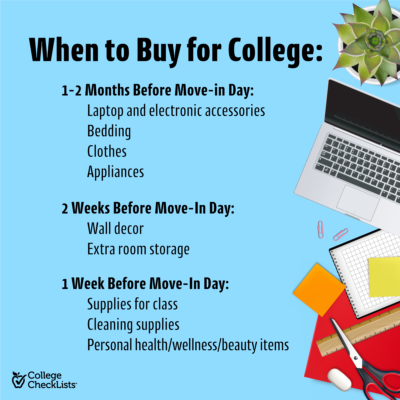 One to Two Months Before Move-In Day:
1. Laptop and electronic accessories
It's good to get this one out of the way first if you can. It's one of the largest expenses, but also one of the most important. Buying your laptop and other electronic necessities early ensures that you get used to its functions well before getting to class so you don't accidentally save your essay without knowing where exactly it is.
2. Bedding
As move-in season inches closer, you'll start noticing that stores are running low on Twin XL bedding— especially in the style that's to your taste. Start looking for bedding as soon as you can. And here's an additional hint— many retailers will start their Off to College sales around this time too!
3. Clothes
If you're going to college somewhere that sees the full breadth of the seasons, it's a good idea to start buying some sweaters, jackets, jeans, and boots in advance. Fall clothes tend to hit the racks in July to catch the back-to-school shoppers— and that includes college students. Don't worry about completely revamping your wardrobe, just keep it simple and get the essentials!
4. Appliances
Mini fridges, microwaves, instant coffee makers… These dorm room staples will sell fast over the summer. What's allowed for appliances in the dorm varies widely by school, so be sure to check your list and make sure you know what's allowed! To make it easier, check here's how to coordinate these purchases with your roommate! (Link to Who Brings What article)
Two Weeks Before Move-In Day:
1. Dorm Decor
Time for the fun stuff! Once you have your dorm room essentials, you can move on to decorating to your heart's content! Some colleges don't allow tape or adhesive on their walls, so make sure you know what's allowed before going too crazy. Floor length mirrors, desk chair cushions, and mini rugs are staples that are known to liven up your space.
2. Extra room storage
You'll likely be supplied with a desk, dresser, and a small closet for storage, and it's even more likely you'll need some extra storage. Investing in some bins and a bedside table will help you stay organized and clean without any overstuffed drawers. And keep an eye out for multi-garment hangers and shoe organizers too!
One Week Before Move-In Day:
1. Supplies for class
Backpacks, pens and pencils, and other class necessities are in abundance across retailers nationwide, so there's no need to get them much earlier- though it's always recommended to have everything before leaving for college so you aren't stressed out after you move in.
2. Cleaning supplies
Many people wait until Move-In Day to grab cleaning supplies, but the goal here is to avoid making any unnecessary trips on an already hectic day. Besides, the closest retailer to your college will be crazy on Move-In Day!
3. Personal health/wellness/beauty items
Make sure you stock up on all your personal wellness favorites before leaving! It's always better to have some extras on hand than run out during your first few weeks at school
4. Food and filtered water
Getting used to dining hall hours might take some time, and it's always good to have something available whenever you need it. Granola bars, yogurt, popcorn, and ramen are just a few staples you'll find in every college dorm's mini fridge!
(Optional) After Move-In Day:
1. Textbooks
This is a personal preference, but many students wait until classes start to order their textbooks. Some professors have extras or have the first few chapters available on PDF so you can search the web for the cheapest option. But if you'd rather order beforehand, that's okay too!
2. Anything you may have forgotten
You might not get it perfectly right, and you may have forgotten things. That's okay! The best advice is to hold off on grabbing what you forgot until after Move-In Day so you don't get too stressed out. Unless you forgot an absolute necessity, it can wait a day or two!