By Jessica Ward
Dorm shopping takes a lot of strategy, especially when you're trying to coordinate with your new roommate. It doesn't have to be difficult— here are a few ways to keep it simple, fun, and as cheap!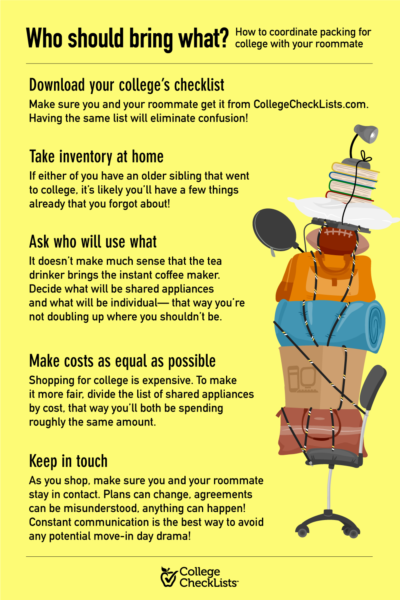 1. Download your college's checklist
Make sure you and your roommate get your college's list from CollegeCheckLists.com. Having the same list will help eliminate confusion and miscommunication. You'll know exactly what your college wants you to bring! Search for your school here (Link to Find Your School).
2. Take inventory at home
If either of you have an older sibling that went to college, it's likely you'll have a few things already that you forgot about like a mini fridge or TV. If you don't, ask around! A neighbor or family friend may be looking to get rid of something useful that's just been collecting dust in their basement. Once you and your roommate each have your inventory, it's time to compare, divide, and conquer!
3. Ask who will use what
It doesn't make much sense that the tea drinker brings the instant coffee maker. Decide what will be shared appliances and what will be individual— that way you're not doubling up where you shouldn't be, and someone isn't paying for an item they won't use. Whoever will be using the appliance most gets to buy it!
4. Make costs as equal as possible
Shopping for college is expensive. To make it more fair, divide the list of shared appliances by cost, that way you'll both be spending roughly the same amount. One person brings the hand vacuum, the other brings the mini blender, and so on. This isn't to say you can't splurge if there's a certain brand or special edition of a product that seems of better quality, but you might want to discuss that situation with your roommate if it presents itself. Money can be a sensitive subject, so remember to be respectful of your roommate's potential limits. The idea here is to keep things as close to equal as possible.
5. Discuss decorative styles
The most common understanding of dorm decorating is that you can decorate your half of the room however you want, and the same goes for your roommate. But there are some decorative choices that might be a communal decision, like a decorative rug or shower curtain (if you're lucky enough to have your own bathroom). Sure, this is pretty insignificant in the grand scheme of things, but it doesn't hurt to send a picture to your roommate and ask "whaddya think?" before paying for it.
6. Keep in touch
As you shop, make sure you and your roommate stay in contact. Plans can change, agreements can be misunderstood, anything can happen! When you reach another milestone with your list, it'll be worth it to send a quick text confirming that you bought another essential. Constant communication is the best way to avoid any potential move-in day drama!